What makes an IVF lab exceptional?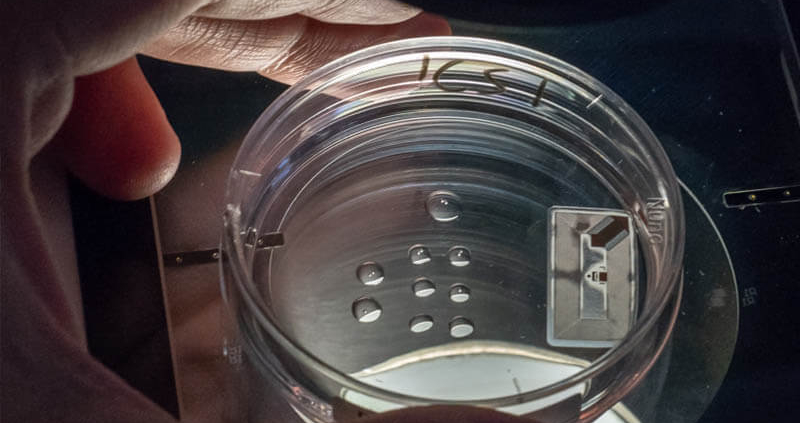 The IVF laboratory is a key component to the beating heart of any fertility clinic – it is here where human fertilisation occurs, sparking the creation of embryos and the beginning of life.
With the perfect integration of three highly specialised areas (andrology, embryology and preimplantation genetics), Aria provides a focused and individualised approached to optimising the IVF laboratory environment and managing the most complex of infertility issues.
Led by Laboratory Manager, Xavier Vinals Gonzalez, the scientific team has enhanced embryology processes to deliver high success rates, with a constant focus on patient care and experience as core to the laboratory values.
Digitalised environment
We understand how important it is for us to be able to deliver the best results possible. In doing so, laboratory activities we recognise the importance of an environment with minimised carbon footprint. We recognise the synergies and benefits which can be derived from a fully digitalised environment, such as electronic witnessing (traceability) which eliminates the risk of errors.
Digital traceability is incorporated across each specific stage of the IVF pathway:
Egg collection & preparation
Sperm collection & preparation
Fertilisation
Embryo culture
Cryopreservation
Taking sperm processing as an example, conventional preparations have 14 associated steps and 32 failure modes – potential risks to a sample or errors in the process, such as sample mismatch and impairment of sperm function. In Aria's digital ecosystem, each stage in the process is associated with an electronic tag containing three identifiers for each sample allowing for full traceability. Furthermore, electronic data gets routinely checked in order to test and improve the workflow and efficiency in the laboratory.
Integrating new technologies
IVF is a constantly evolving field, which requires continuous careful assessment of emerging solutions by doctors and scientists. In order to evaluate the incorporation of innovations into the laboratory, a systematic decision strategy which accounts for effectiveness and risk is always followed.
Last year, Aria cryostorage facilities was the first clinic worldwide to introduce a novel monitoring technology. With the aid of such equipment, Francisca Mora, ESHRE certified clinical Embryologist at Aria, developed a study analysing cryokinetic variables, which helped to validate the integrity and lifetime of cryostorage tanks adding a unique high-security level and cryosurveillance to our stored samples.
Aria's Laboratories have always welcomed advances in the field of IVF, where technology can bring standardisation and precision while enhancing normal functions of eggs, sperm and embryos. Based on the use of microfluidic devices for sperm preparation, embryologist Kimberley Hill, showed a reduced operational risk and improved laboratory workflow. Such devices use the natural properties of sperm to 'swim up' (rheotaxis), whilst reducing the associated steps in the process.
Currently, Aria Laboratories continue to evaluate the efficacy of non-invasive genetic testing, time-lapse parameters and artificial intelligence algorithms as predictors of embryo potential with the main focus on delivering high success rates to our patients, whilst minimising multiple pregnancy.
Rigorous quality control
Correct functioning of equipment is imperative for maintaining the functions of eggs, sperm and embryos. Temperature, gas and humidity sensors are distributed along the equipment in the laboratory and monitored 24/7. Should any anomaly be detected, different sensors will trigger an alarm and inform the Embryology Team, which can connect remotely and troubleshoot rapidly.
This digital surveillance system is tested against our weekly manual quality control checks to ensure correct performance. Annually, Aria Laboratories have a planned shut-down where all pieces of equipment are analysed, calibrated and tested; providing us with the reassurance our equipment is functional and we continue to offer a premium quality service with the best results.
Research and development
The importance of research and development activities is well embedded in our daily work and philosophy. Journal clubs and quality review meetings are organised between departments to track new practices and developments in the field. It is key for us to be able to provide an individualised and exceptional experience to our patients, which requires managing each case independently.
Within the embryology department, Miriam Alvarez's interest resides in reviewing literature and research with a goal of potential adaptation of the laboratory procedures for cases of autoimmune disorders to maximise the chances of success when embarking on the IVF journey.
Aria Laboratories are proud to be able to provide an excellent and evidence-based approach to infertility cases, which would not be possible without the cohesive integration with the clinical, nursing & patient support teams.
To find out more about our work, call +44 (0) 203 263 6025 to arrange a consultation.
https://ariafertility.co.uk/wp-content/uploads/2022/03/work-of-IVF-Lab-at-Aria.jpeg
450
800
CLINIC TEAM
https://ariafertility.co.uk/wp-content/uploads/2021/06/Aria-logo-300x140.png
CLINIC TEAM
2022-03-14 09:25:30
2022-03-14 10:36:32
What makes an IVF lab exceptional?