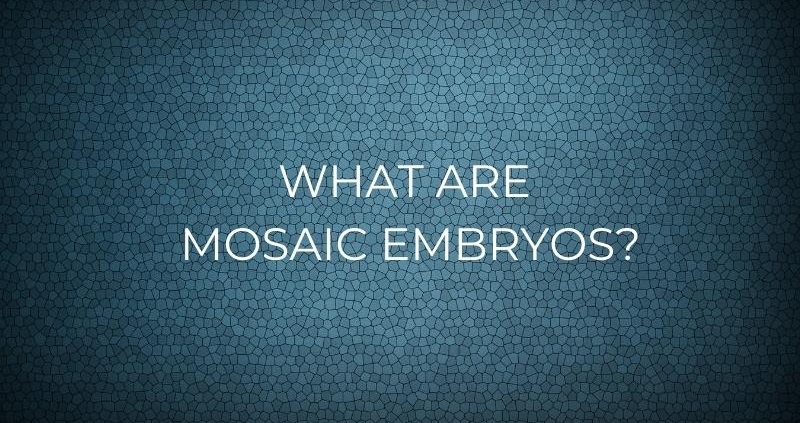 New research has found that mosaic embryos, currently ruled out for IVF selection, could self-correct and lead to healthy pregnancies.
During embryo selection, a test known as preimplantation genetic testing for aneuploidy (PGT-A) is used to screen aneuploid embryos which have an incorrect number of chromosomes. This is performed to reduce the risk of miscarriage.
Embryos with the correct number of chromosomes are called euploid and have a higher chance of leading to a successful pregnancy than those with the incorrect number of chromosomes or aneuploid embryos.
What are mosaic embryos?
Previously, embryos were categorised as normal or abnormal, but in the mid-2010s, embryologists discovered that blastocysts aren't necessarily 100% euploid or 100% aneuploid: sometimes they're a mixture.
The term mosaic embryos were coined to describe embryos that have a mix of normal and abnormal cells. Data suggests that mosaic embryos account for up to 20% of all PGT-A-tested embryos.
Mosaic embryos can have different proportions of normal and abnormal cells and there is a criterion ranging from low-level mosaic where 20 to 40% of the cells are abnormal to high-level mosaic.
What did the study into aneuploid embryos find?
Scientists at the laboratory of synthetic embryology at Rockefeller University, New York found that some aneuploid embryos can self-correct. They transferred embryos that had failed the PGT-A screen into women who'd given their consent. Genetic tests performed a few months later found there were no longer any signs of aneuploidy.
The next stage of the study was to understand how the 'faulty' embryos developed. Using human embryonic stem cells, they generated artificial human embryos and studied their development. They found that the proportion of the aneuploid cells decreased and the aneuploid cells that remained were in the outer layer which eventually becomes part of the placenta.
As this research shows, the science behind embryo selection continues to evolve and PGT-A is one tool to help us choose which embryos to transfer. Throughout the process, we provide you with all the information you need to make these important decisions.
For more advice on IVF and embryo selection, call +44 (0) 203 263 6025 to arrange a consultation at Aria Fertility.
https://ariafertility.co.uk/wp-content/uploads/2021/12/What-are-mosaic-embryos.jpeg
450
800
CLINIC TEAM
https://ariafertility.co.uk/wp-content/uploads/2021/06/Aria-logo-300x140.png
CLINIC TEAM
2021-12-20 09:15:51
2021-12-15 18:35:28
What are mosaic embryos?