Success of egg freezing highlighted in new study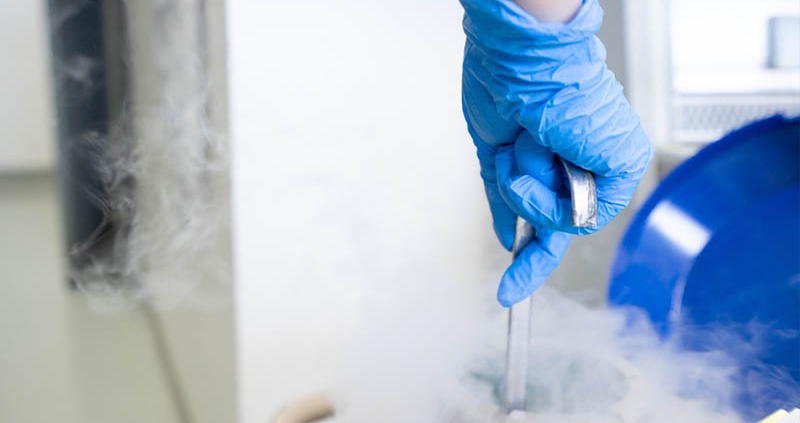 According to HFEA, the Human Fertilisation and Embryology Authority, cycles of egg freezing have increased tenfold in the UK in the space of a decade, as more and more women start families later in life and look for ways to preserve their fertility.
Now, a large-scale US report on elective fertility preservation outcomes has found that using frozen eggs are a more efficient option than IVF with fresh eggs or embryos at a later age.
The researchers found that 70% of women who froze eggs when they were younger than 38 and then thawed at least 20 eggs later went on to have a baby. In comparison, fewer than 30% of women undergoing IVF at age 40 using fresh eggs became pregnant and fewer than 20% gave birth to live babies.
"Our findings shed light on the factors that track with successful births from egg freezing, which include careful screening of embryos to be thawed and implanted," says lead author Sarah Druckenmiller Cascante at the department of obstetrics and gynaecology at NYU Langone.
"A better understanding of the live birth rate from egg freezing for age-related fertility decline is necessary to inform patient decision-making."
Within the study, published in the journal Fertility and Sterility, 543 patients participated with an average age of 38 years old at the time of the first egg freeze, which is older than the generally recommended age to freeze eggs which is 35 years old or younger.
Overall, the study established that 39% of women between 27 and 44 years old, with a majority between 35 and 40 years old at egg freeze, had a least one child from their frozen eggs. Across all ages, women who thawed more than 20 mature eggs had a 58% live birth rate and women under 38 years old who had 20 or more mature eggs thawed achieved a 70% live birth rate per patient.
The study also showed that preimplantation genetic screening with embryos from frozen and eventually thawed eggs resulted in lower miscarriage rates and higher live birth rates per transfer.
The growing popularity of egg freezing
Awareness of fertility preservation is gaining traction in the media with celebrities such as Love Island's Amy Hart speaking candidly about their decision to freeze eggs. There are many reasons why a woman may choose to delay starting their family, which may include not being in the right place in terms of their relationship or career, or not in a financial position to proceed at this point.
The improvement in the clinical methods used to collect the eggs, assess them for maturity and viability, and then freeze them has also contributed to the success of egg freezing. Previously, the slow freezing process had a survival rate of approximately 30%, but the current method of vitrification means survival rates of over 90% typically.
For more advice on the benefits of egg freezing, call +44 (0) 203 263 6025 to arrange a consultation.
https://ariafertility.co.uk/wp-content/uploads/2022/07/egg-freezing-success.jpg
450
800
CLINIC TEAM
https://ariafertility.co.uk/wp-content/uploads/2021/06/Aria-logo-300x140.png
CLINIC TEAM
2022-07-14 11:49:55
2022-07-14 11:49:55
Success of egg freezing highlighted in new study