Fertility Awareness Week: new survey looks at the wellbeing of those trying to conceive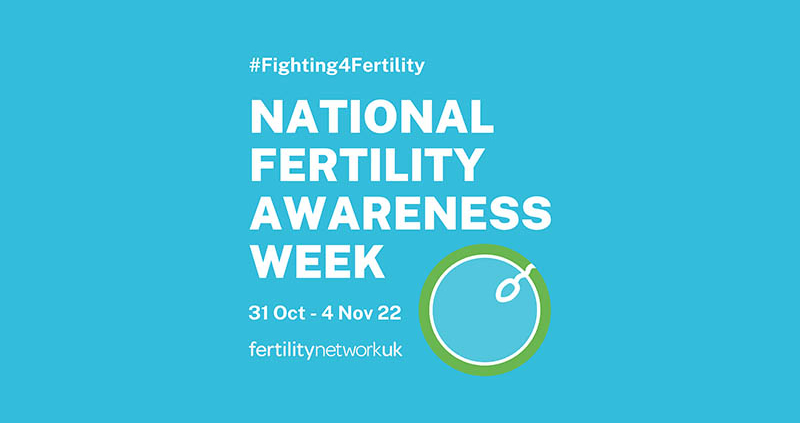 This week is Fertility Awareness Week in the UK. With 3.5 million people here facing fertility challenges, Fertility Network UK's aim is to improve awareness and provide support at whatever stage of the journey you're at.
Among other initiatives they are running a series of webinars during the week, touching on important fertility issues, finishing on Friday with a lunchtime webinar with Aria's own Stuart Lavery. Friday's theme will be #TalkFertility and will signpost the help available those experiencing fertility struggles so you don't have to suffer in silence or feel unsupported.
Register for Friday's webinar with Mr Stuart Lavery >
Yesterday's theme was #FertilityFairness and tied into a new survey commissioned by Fertility Network UK into the postcode lottery that is fertility treatment in the UK. Only Scotland offers the recommended three full IVF cycles and almost two-thirds of respondents to the survey said they had to pay for their own treatment.
The emotional impact of IVF treatment and was also surveyed and worryingly four in 10 respondents said they experienced suicidal feelings. The vast majority at 83% said they felt sad, frustrated and worried often
Gwenda Burns, chief executive of Fertility Network UK, said: "Fertility patients encounter a perfect storm: not being able to have the child you long for is emotionally devastating.
"But then many fertility patients face a series of other hurdles, including potentially paying financially crippling amounts of money for their necessary medical treatment, having their career damaged, not getting information from their GP, experiencing their relationships deteriorate, and being unable to access the mental support they need.
"This is unacceptable. Infertility is a disease and is as deserving of medical help and support as any other clinical condition."
The rest of the upcoming webinars this week are as follows:
Tuesday 1 November
#FertilityintheWorkplace
Most employers in the UK do not recognise fertility treatment as a necessary medical treatment and there is no legal right to time off work for fertility appointments. Fertility Network UK is calling for employers to recognise fertility treatment as a clinical necessity and to provide appropriate medical leave.
Register for Tuesday's Webinar >
Wednesday 2 November
#HimFertility
Male factor fertility is a common reason for infertility yet often men's fertility is not tested in the initial stages resulting in unnecessary delays. Fertility Network UK is calling for men's fertility to be tested in a timely manner at the same time as a woman's fertility is explored.
Register for Wednesday's webinar >
Thursday 3 November
#FertilityEd
Fertility education in schools should be expanded in scope so teenagers and young adults understand fertility isn't guaranteed and that treatments such as IVF and egg freezing do have some limits.
Register for Thursday's webinar >
For more advice and support on any of the issues we've touched on here, call +44 (0) 203 263 6025 to discuss further.
https://ariafertility.co.uk/wp-content/uploads/2022/11/Fertility-Awareness-Week.jpg
450
800
CLINIC TEAM
https://ariafertility.co.uk/wp-content/uploads/2021/06/Aria-logo-300x140.png
CLINIC TEAM
2022-11-01 15:48:20
2022-11-01 15:52:27
Fertility Awareness Week: new survey looks at the wellbeing of those trying to conceive